Liu Ning, Secretary of the Party Committee of the Autonomous Region, visited Yuchai Heavy Industry for investigation
On November 26, Liu Ning, Secretary of the Party Committee of the Autonomous Region and Director of the Standing Committee of the People's Congress of the Autonomous Region, came to Yuchai Heavy Industry. He encouraged Yuchai Heavy Industry to seize development opportunities, strengthen capabilities, make up for shortcomings, promote advantages, emphasize innovation, and strengthen and expand mini excavators, rotary drilling, forestry equipment and other characteristic industries, and lead high-quality industries with modern industrial development. develop.
Fang Lingmin, Wang Weiping, Sun Daguang, and Zhou Yijue, members of the Standing Committee of the Party Committee of the Autonomous Region, Mo Hua, Secretary of the Yulin Municipal Party Committee, and Bai Songtao, Mayor of Yulin, participated in the investigation. Li Hanyang, Secretary of the Party Committee and Chairman of Yuchai Group, reported the work.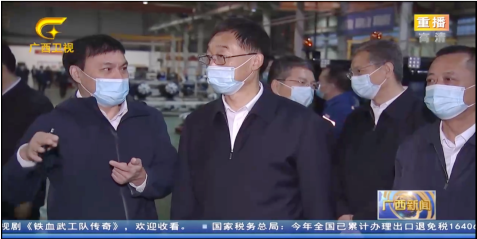 Yuchai Heavy Industry is the largest production and export base of mini excavators in China and a national high-tech enterprise. Liu Ning walked into the workshop, looked at the products, listened to the introduction, and learned about Yuchai Heavy Industry's development plan, transformation and upgrading, and business development in detail.
Liu Ning encouraged Yuchai to thoroughly study, publicize and implement the spirit of the 20th CPC National Congress. Thoroughly implement the spirit of General Secretary Xi Jinping's important instructions on Guangxi's work series, accurately and comprehensively implement the new development concept, innovate the development strategy, promote green development, and build a modern industrial system. We must adhere to the path of intensification, differentiation, and specialization, extend the industrial chain, upgrade the value chain, and improve economic benefits. It is necessary to continue to strengthen technological innovation and product innovation, further develop the brand, enhance market competitiveness, make the enterprise stronger and bigger, support the high-quality economic development of Yuchai Group and Yulin City, and strive to write a new chapter in Chinese-style modernization of Guangxi.